I have been making cards and gift tags all week. This is my mess...
Ugh! I feel horrible. Early in the week my boyfriend got sick. Now I am sick. All I want to do is crawl into a dark place and hibernate.
I manged to get all my orders and swaps finished, I just need to take them to the post office on Monday. I signed up for so many swaps this year. I think I sent out a total of 20 something handmade cards (swaps, not family and friends) an ornament, and two packages. A few of them were international. One of the packages was sent to the Philippines, and I had cards sent to Belgium, Australia, and Germany.
So far I have received only one card, but I am waiting patiently for the others.
I have a few more swaps coming up but those don't need to be sent out until the end of next week. Three lip balm swaps, and a winter package swap.
While I prefer swaps that are hosted by blogs that I follow, I have found a website that is only for swaps and I love it! You can search for the type of swaps you want to join or -after completing 5 swaps- you can make your own.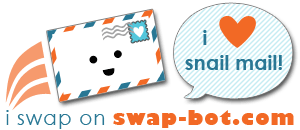 Just click on the image above an join.
Do you have a blog that is hosting swaps? I would love to know about it!
I plan on hosting a Valentines Card & Treat Swap next month, so look out for that!